Interested in what is needed to track a satellite? Check out this video that was developed using the LWHC's satellite equipment: https://youtu.be/74sCCTYGqYA
We use this as part of our Technician and General class instruction. Please note:
The contact made in the video was to Robert Hinshaw, call sign N6UK using the EO-88 satellite. Robert was at Maidenhead Grid Square DM14 which is in the San Bernardino area of California. At the time of the contact (07-Feb-2018 22:35GMT) our party was using the callsign KG7GEV and at the location CN87 which includes the Seattle area.
The EO-88 satellite was developed by the Dubai-based Emirates Institution for Advanced Science and Technology (EIAST), in partnership with American University of Sharjah (AUS). It was launched: 15-Feb-2017 from Satish Dhawan Space Centre (SHAR), India.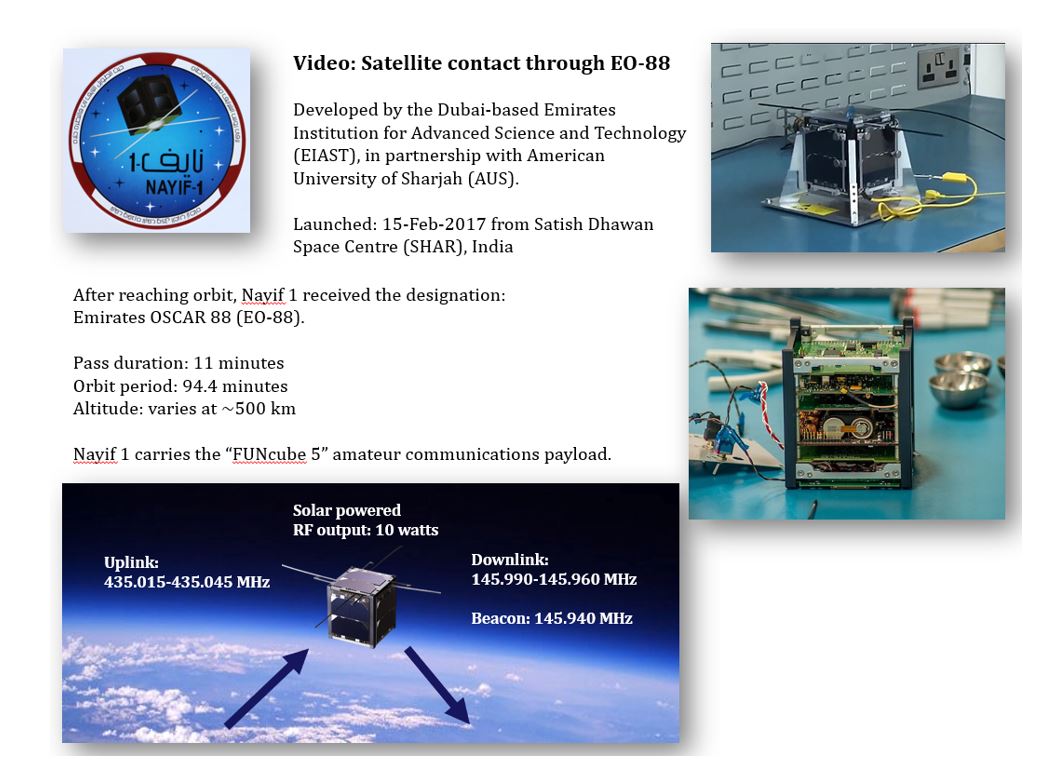 More information is available on the AMSAT-UK web site at: https://amsat-uk.org/tag/eo-88/.
Checking status of satellites
AMSAT hosts a status page showing how many satellites are available and operating and available for amateur communication.  The data displayed is crowdsourced by amateur radio operators around the world every time they "access a bird":
Difference between FM and SSB linear translators
If you would like to contact a satellites using an SSB translator or transponder, it is slightly different. A good video describing that difference is available here at: https://amsat-uk.org/beginners/how-to-work-ssb-satellite
For more detailed information on the difference between the SSB and FM modes, see:   https://ham.stackexchange.com/questions/6847/single-side-band-am-vs-fm/6849
PL tones
Satellite repeaters use PL tones similar to ground based repeaters:
https://en.wikipedia.org/wiki/Continuous_Tone-Coded_Squelch_System
http://w4qr.org/files/repeater-basics_jon-perelstein.pdf
http://www.repeater-builder.com/tech-info/ctcss/ctcss-overview.html
Frequency drift and off frequency QSO's
https://www.amsat.org/tag/fo-20/
APRS over Satellite
http://www.algissalys.com/amateur-radio/aprs-over-satellites
http://www.aprs.org/astars.html
SSTV
https://amsat-uk.org/beginners/iss-sstv/
Doppler Effect
http://www.zarya.info/Tracking/Doppler.php
Video on Doppler Effect
Beacons
http://www.amsat.org/articles/houston-net/beacons.html
Website for Ham Radio Deluxe
https://www.hamradiodeluxe.com/
Problem with Full Duplex Radio's
https://forums.qrz.com/index.php?threads/trying-to-get-answers-on-full-duplex-ht-for-satellite.484629/
This video was designed, scripted, shot, and integrated into the LWHC training curriculum as part of Michael Jarvi's BSA Eagle Project.
---
Interested in more information on satellite tracking? Check out JTrack 3D which is a NASA web based java applet that creates a real time representation that allows you to track, identify, and change your point of view to see satellites that are currently in orbit. Click on the dots and it identifies the satellite. Click and drag on the earth to change the point of view.
http://science.nasa.gov/realtime/jtrack/3d/JTrack3D.html/
Heavens above satellite and astronomy website: www.heavens-above.com/
and last but not least AMSAT web site at:www.amsat.org/
Have fun with these.
While speaking of "fun", take a look at this list of inspirational and insightful "Astronomy Sayings and Quotes" at http://www.wiseoldsayings.com/astronomy-quotes/
Kind of cool . . .
73.